Luckily for me there's actually more I can write about for this show. It was your average Superstars show, the usual deal. No real promos or anything, just matches. Some decent matches happened though.
SUPERSTARS IN A NUT SHELL
First of all, here are all the results etc. You know the drill.
Hunico def. Tyson Kidd
The Usos def. Curt Hawkins and Tyler Reks
R-Truth def. Heath Slater
---
Ok so Hunico is getting really stale and lame now. His gimmick is just not working for him and as long as he has it, he'll never get over. He proved that this week by coming out to the ring with a microphone spurting out the token heel promo. "I'm the future of this company." If I had a dime for every person that has ever said that, I'd have a lot of useless dimes that I can't buy anything with because I'm from England. But anyway, he's good in the ring, but he needs to work something new out for his character, that's just my view on the whole thing.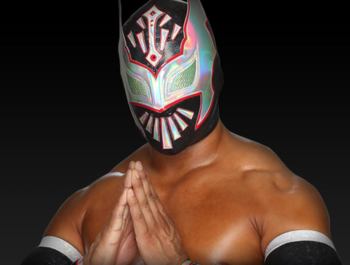 Sin Cara Negro > Hunico Ghetto gimmick
No Diva matches this week? I'm not saying I actually enjoy the matches for the wrestling skill, because let's face it, there is none (unless it's Beth Phoenix or Natalya), but it's always nice to see the Divas come out and do their thing...
R-Truth has a new thing going for him, it looks like they've taken the whole Little Jimmy thing and ran with it, he now fully pretends that Little Jimmy is out their with him in the ring, kind of like an imaginary friend. I like this, it's pretty interesting. Ridiculous and childish, but interesting. Better than Brodus Clay's childish gimmick, this one is the good kind of kiddie gimmick. Notice how many times I've used the word "Gimmick" during this edition of In A Nut Shell. Gimmick, gimmick, gimmick.
_________________
1x EWE Tag-Team Champion
||Win: 0 | Loss: 1 | Draw: 0 ||
I'm on a horse





Posts

: 96


Join date

: 2011-12-30


Age

: 21


Location

: United Kingdom




---
Permissions in this forum:
You
cannot
reply to topics in this forum