The thing we all wanted to see the most this week was what Jericho would do next, the past couple of weeks have featured pretty much the same thing, but this week I felt that it'd be different. Let's just say I was half right. Anyway, it's time for me to once again sum up...
RAW SUPERSHOW IN A NUT SHELL
First of all, here are the results from the show's matches:
WWE Tag Team Champions Primo & Epico def. Kofi Kingston & Evan Bourne
Jack Swagger def. Zack Ryder (New United States Champion)
Kelly Kelly & Alicia Fox def. The Bella Twins
R-Truth def. Wade Barrett, Sheamus and The Miz (Over-the-Top Rope Challenge)
Brodus Clay def. JTG
Mark Henry, Dolph Ziggler & David Otunga def. Chris Jericho, WWE Champion CM Punk & World Heavyweight Champion Daniel Bryan
---
And now for other stuff that happened during the show you should know about:
Mick Foley made another appearance, this time to tell the world he intended to be a part of the Royal Rumble match this year. Dolph Ziggler came out and flamed him for reasons I don't actually know, then John Laurinait
ass
came out to tell Foley he wasn't allowed to be in the match, now who wants to bet Mick will end up in the Rumble anyway?
In-case you didn't read it correctly, yes. Primo and Epico are now the Tag Champs. They won the belts during a house show, that's a rare happening but I'm glad the belts got taken away from Air Boom... They are seriously stale. I don't know how long these two will be champions for, but judging by the fact they didn't even win the titles on a televised event, I think their reign will be short lived.
We have a new U.S Champ. After Zack Ryder did a really bad job of acting like he was injured (He's a generally bad actor), he was still forced to compete by John Laurinaitis. He got tossed around a bit and then lost the belt by pin fall. Damn good job, Ryder never deserved the title... Neither does Jack Swagger, I think Ryder will end up getting the belt back unfortunately. Let me just enjoy Zack not being champion while it lasts.
R-Truth had a segment which I can honestly say I didn't even watch. His gimmick is so bad I refused to watch his promo. I'm sorry. If you want to see the promo, youtube it or something. I sure as hell am not going to do so. End of story, have a nice day, goodbye.
Brodus Clay's ridiculous gimmick is still getting over with the fans for reasons unknown to me. Seriously, the only good thing about him is those dancers that come out during his entrance. As I have already said, women are awesome. Anyway, it came to my attention during Brodus's match that he badly
badly
needs to drop the singlet attire and get something less revealing. He did a little dance thing after doing a move and no word of a lie, you could clearly see the shape of his penis shaking around. I nearly puked myself. Oh and I almost forgot to mention, wouldn't the funkasaurus gimmick work better if Brodus was black? I don't mean that in a racist way, think about it... It would.
The heel turn of Brian Danielson is going to come to a head on Smackdown, I can sense it. He stated this week that on Smackdown, he is going to make the Big Show pay for what he did to AJ, and that AJ would never be the same again. First of all, please tell me we're not looking at some kind of Undashing Cody Rhodes gimmick on AJ. Please god no. Second, I'm interested to see how Danielson's heel turn will go down on Smackdown, should be cool.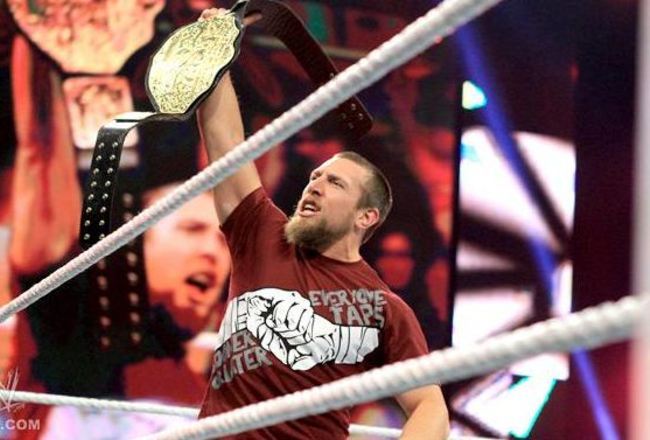 Chris Jericho actually got booked in a match this week! I got my hopes up for nothing though, after pandering to the crowd for the full duration of his opponents making their entrances, Jericho waited on the apron for a long time before getting tagged in. When he finally did, the crowd went wild. Chris pandered to them a little more then abruptly left the ring and walked back up the ramp out of the arena with a huge smile on his face. Trolled a-fucking-gain. We should have seen it coming, in fact, I did see it coming... Sort of... I guess. I think we're getting closer to Jericho finally stopping the trolling and going back to his usual heel self to face CM Punk, it'll likely happen after Royal Rumble when Punk is done with Laurinaitass.
After Jericho left, Mick Foley came in to take his place, stating that John told him to fill in. When he and Punk won the match, John came out and told Mick he didn't have permission to fight in the match, and that he had reversed the decision. This caused Punk to go insane on John, and cut a pretty damn good promo on him. After he left, John said "You're damn right I'm gonna screw Punk at the Rumble" and punched Mick in the face. Nasty man.
_________________
1x EWE Tag-Team Champion
||Win: 0 | Loss: 1 | Draw: 0 ||
I'm on a horse





Posts

: 96


Join date

: 2011-12-30


Age

: 21


Location

: United Kingdom




---
Permissions in this forum:
You
cannot
reply to topics in this forum